The peaceful and idyllic Cala San Vicente is located in the northwest of Mallorca, just 5 km from Puerto de Pollensa and cradled by the imposing mountains of the Serra Tramontana. This picturesque village retains its charm and tradition, remaining untouched by large crowds, making it the perfect destination for those seeking relaxation in a spectacular setting.
In the past, Cala San Vicente functioned mainly as a fishing village. But, as time went on, its stunning and tranquil landscape began captivating many, making it a favourite spot for those seeking a more serene atmosphere than the main resorts of Mallorca.
In Cala San Vicente, you'll find four coastal coves: Cala Barques, Cala Clara, Cala Molins, and Cala Carbó. All are in close proximity to one another, beckoning visitors to embark on a journey of discovery and savour their beaches.
How to get to Cala San Vicente?
If you want to visit Cala San Vicente by car, take the MA-2200 road, which connects Pollença directly with its seaport. When you arrive at your destination, you will find several areas where you can park free of charge, either near the beaches or on the village roads.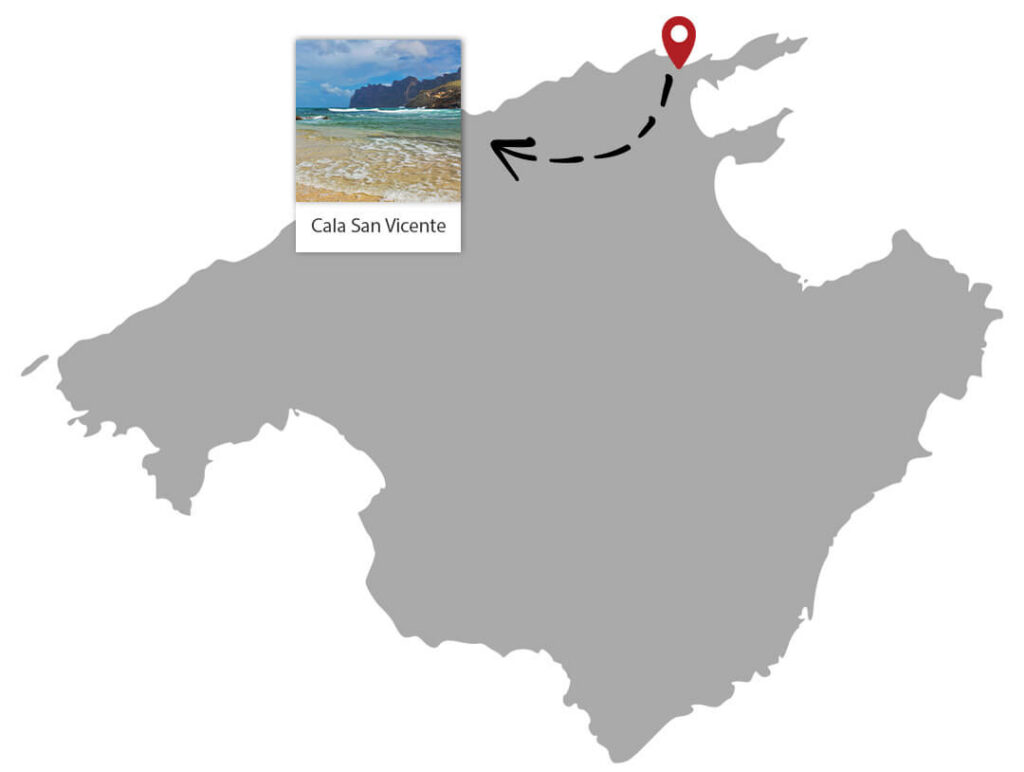 If you opt for public transport, don't worry. Bus line 321, which runs from Pollença to Puerto de Pollensa, stops at Cala San Vicente. When you get off, you will find that Cala Barques is very close, allowing you to reach the beach in a short walk.
What to do in Cala San Vicente?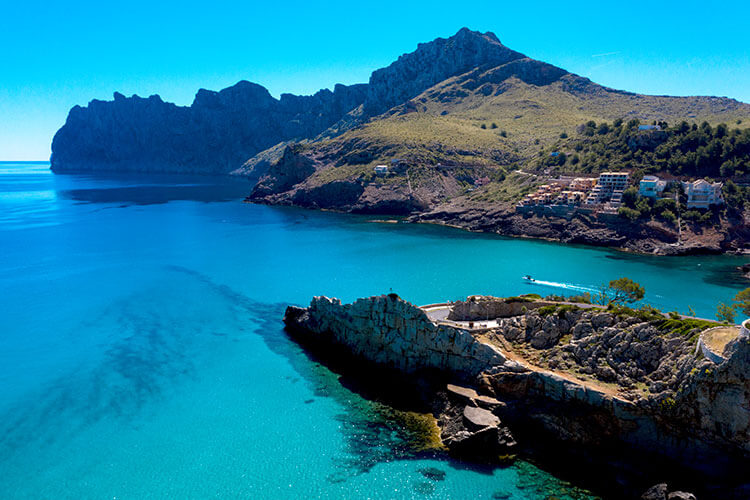 From the moment you set foot in Cala San Vicente, you will be captivated by the imposing contrast of its majestic mountains and the deep blue Mediterranean Sea, revealing crystal clear waters and charming coves. Whether you are travelling as a family, a couple or with a group of friends, this place has something special for every visitor.
Beaches for all tastes
Cala San Vicente is home to four wonderful beaches: Cala Barques, Cala Clara, Cala Molins and Cala Carbó. All located within walking distance of each other, each one sparkling with its own unique charm.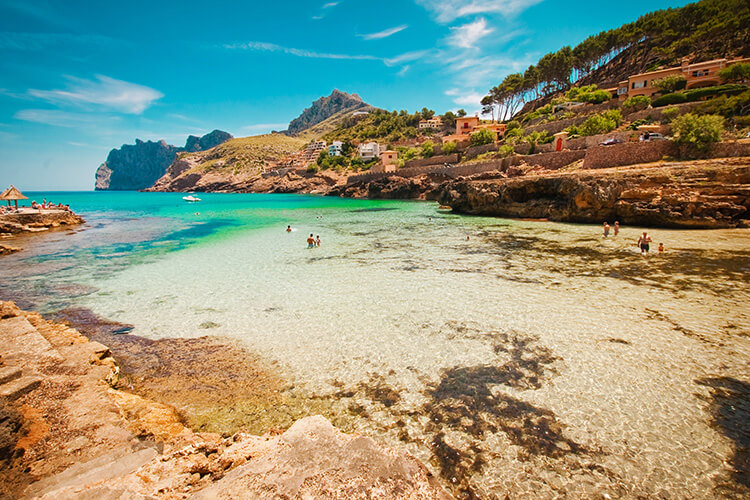 Whether you're looking for a quiet spot to relax or a beach full of water activities, you'll find your ideal spot here.
Water Sports in a Dream Setting
For those with an adventurous spirit, Cala San Vicente is the ideal destination. Its clear, calm waters are perfect for kayaking, while its marine biodiversity makes for unparalleled diving and snorkelling experiences.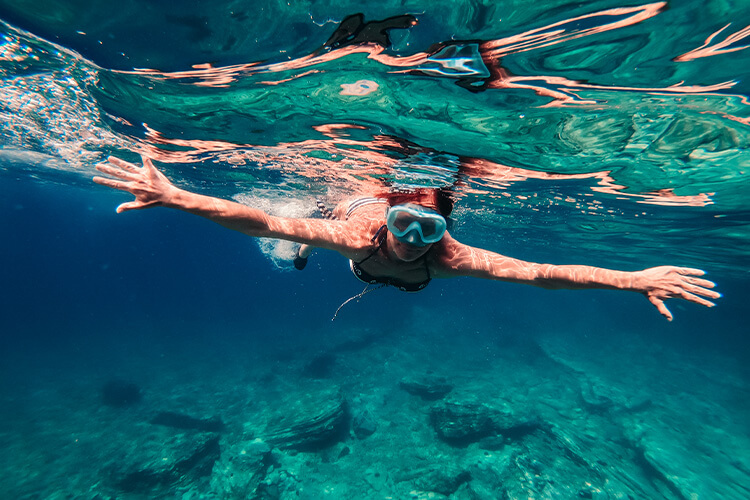 And if you prefer to simply relax and enjoy the scenery, a boat trip will offer breathtaking panoramic views.
Hiking with History
Nature and history intertwine in Cala San Vicente. The Prisoners' Path or Camí dels Presos is a path that not only offers spectacular views, but also carries with it a great deal of history. Built by prisoners during the civil war, it is a reminder of times gone by.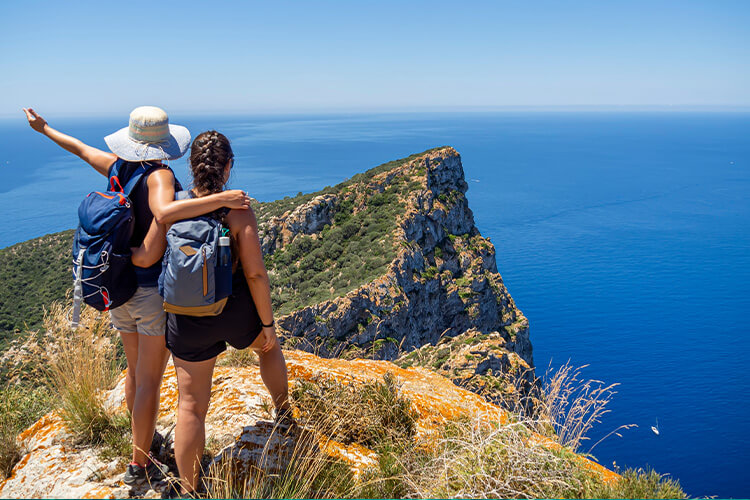 On the other hand, the route to Coves Blanques and Puig de l'Aliga offers incredible panoramic views and immersion into the local flora and fauna.
Beaches in Cala San Vicente
Cala Barques
One of the most outstanding beaches in Cala San Vicente is Cala Barques, the largest of the four coves in the area. With its fine sand and crystal clear turquoise waters, it is a place that captivates at first sight.
In the surrounding area, you will find hotels, bars and restaurants to enrich your visit experience. A free car park is just a short walk away. Once on the beach, you can rent sun loungers, umbrellas or water sports equipment.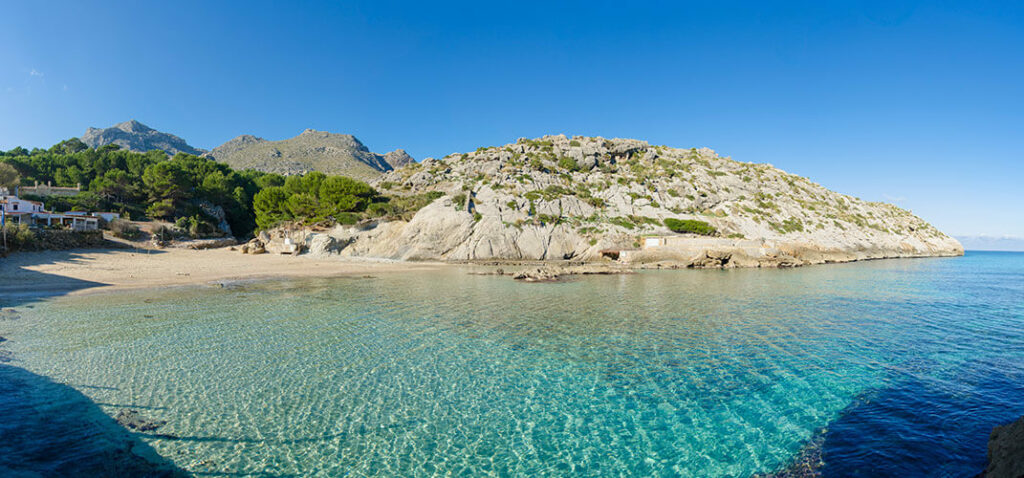 During the busiest months, a lifeguard watches over the beach to ensure the safety of visitors. Although the sand is delicate and soft, it is possible to find some pebbles when entering the water. Nevertheless, the beauty of the cove makes it a must-see in Cala San Vicente.
A small path from Cala Barques will take you directly to Cala Clara. Although smaller, this cove is just as charming and worth a visit.
Cala Clara
Although Cala Clara is the smallest of the four coves in Cala San Vicente, it exudes charm in every corner. Its fine white sand and the rock formations that accompany it create a unique and captivating landscape. Its easy access and beauty make it a point of attraction for many of those who visit Cala San Vicente.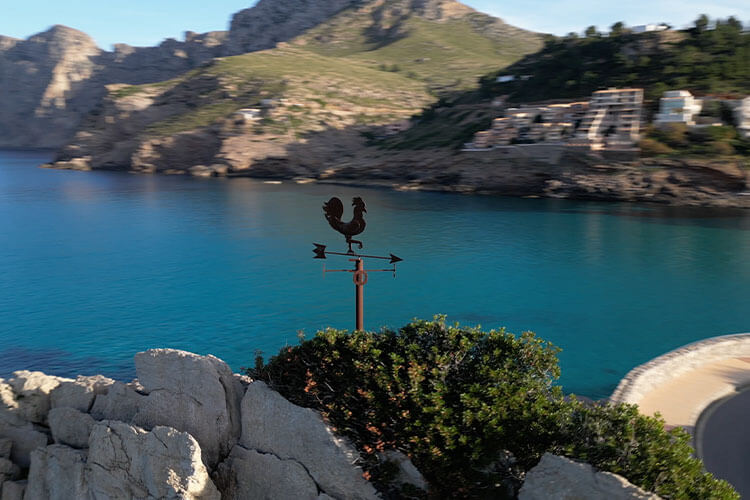 On the right side of Cala Clara, there is an old tower known as the Punto de la Torre, which separates it from the neighbouring beach, Cala Molins. On one of the stones of this tower, you can find the coat of arms and symbol of the municipality of Pollensa – a cockerel.
Cala Molins
Cala Molins, like Cala Barques, is distinguished by its extension. Visitors can benefit from free parking and enjoy a wide variety of services around the beach, including beach bars and restaurants. In addition, rentals of sunbeds, umbrellas and equipment for recreational activities are available. An important detail is that the access to Cala Molins is also adapted for people with reduced mobility.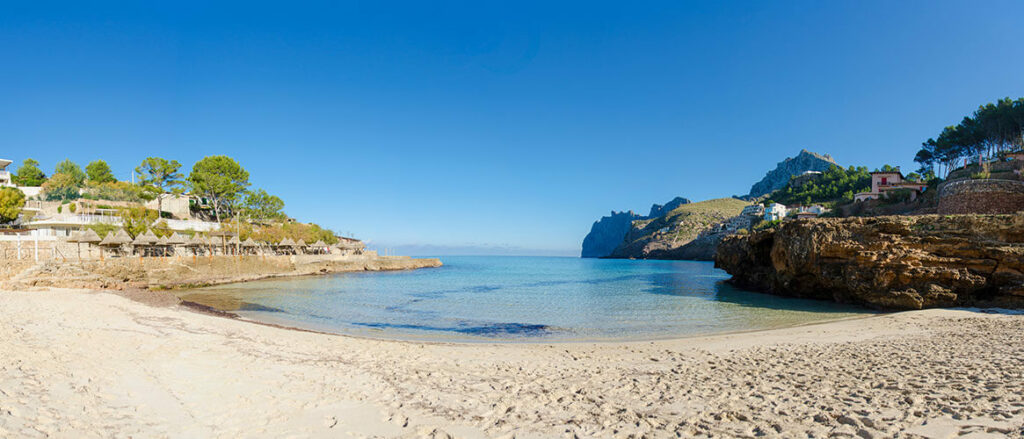 In high season, the safety of bathers is guaranteed by the presence of a lifeguard. The waters of Cala Molins, as in the nearby coves, are characterised by their clarity, making them an ideal setting for snorkelling or diving and observing the rich marine life.
To the right of Cala Molins, an imposing cliff separates it from Cala Carbó, the most peaceful of the four coves of Cala San Vicente.
Cala Carbó
Located behind Cala Molins is the most unspoilt of the beaches of Cala San Vicente: Cala Carbó. High rocky hills embrace this small cove which is full of charm. Although its sand is largely soft, it is mixed with small stones extending into the water; therefore, it is advisable to wear water shoes for a more comfortable experience.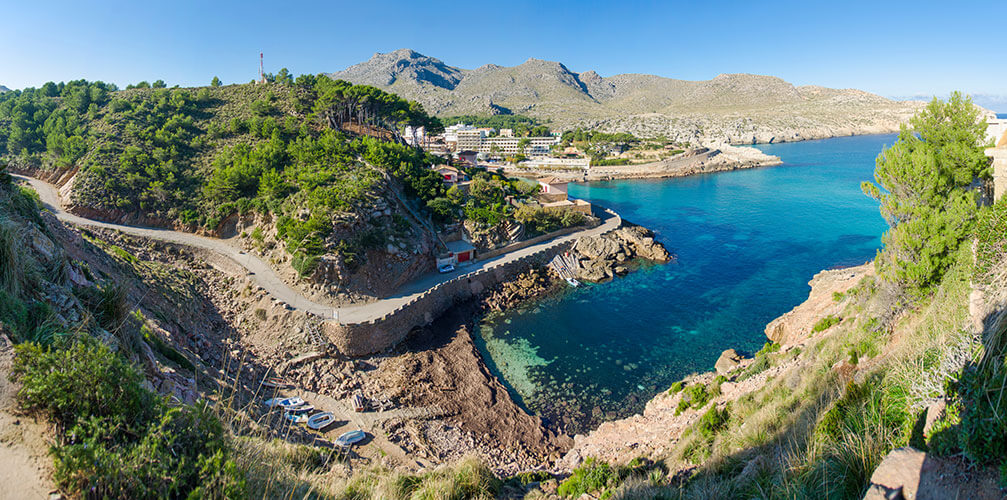 Cala Carbó is the ideal destination for those who long for a quieter place away from the hustle and bustle. Unlike the other beaches, you will not find the usual tourist services here. In fact, even in high season, it is the least crowded of the four beaches of Cala San Vicente.
Accommodation in Cala San Vicente
In Cala San Vicente, Majorca, you have at your disposal a wide range of hotels and holiday rentals, including villas and apartments.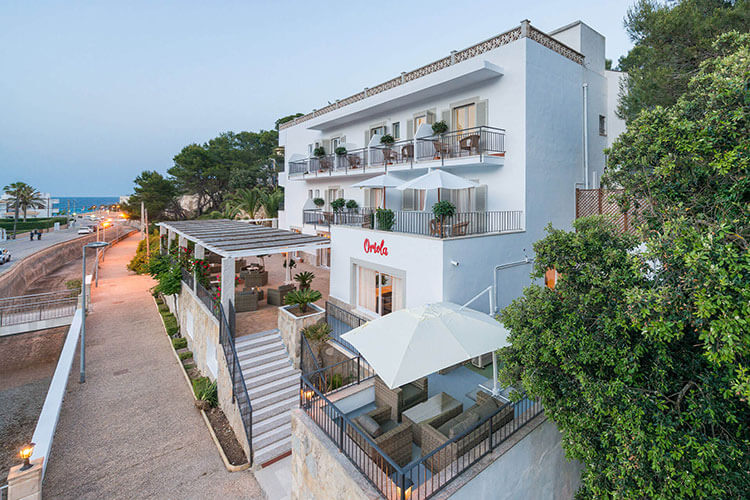 This hostal is located in a serene area, surrounded by pine trees which, on hot days, give off their relaxing aroma. It also offers breathtaking views of the mountains. It offers not only comfortable rooms, but also a swimming pool and a terrace where guests can enjoy a free breakfast. For more details, you can visit their website.
If you prefer more privacy, Sealand Villas is a company with years of experience, offering beautiful villas and flats for rent in the area. It is an excellent option for those looking for a space of their own in this corner of Mallorca.
Bars and restaurants in Cala Sant Vicente
Although this Mallorcan village is known for its tranquillity, it surprises its visitors with its rich gastronomic offer. The bars and restaurants of Cala San Vicente seduce with their fresh Mediterranean dishes.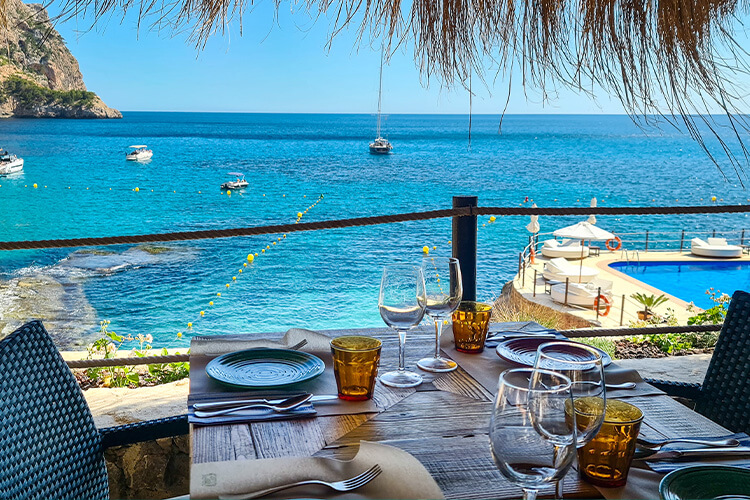 Given its fishing origins, it is not surprising to find delicious fish, exquisite paellas, Mediterranean tapas and other specialities of Mallorcan cuisine on the menu. Moreover, some restaurants offer the perfect complement beyond the delicious food: breathtaking views of the Mediterranean Sea.
Cala San Vicente stands out as a special corner of Mallorca, encapsulating the true essence of the Mediterranean. With its crystal clear beaches and breathtaking mountains, this place offers a genuine and tranquil experience, far removed from the typical hustle and bustle of other tourist destinations. Whether immersing yourself in its rich history, savouring authentic Mallorcan gastronomy or simply relaxing on its shores, Cala San Vicente promises to be unforgettable. If you are looking for a combination of tradition, natural beauty and hospitality, make Cala San Vicente your next stop and discover all it has to offer!