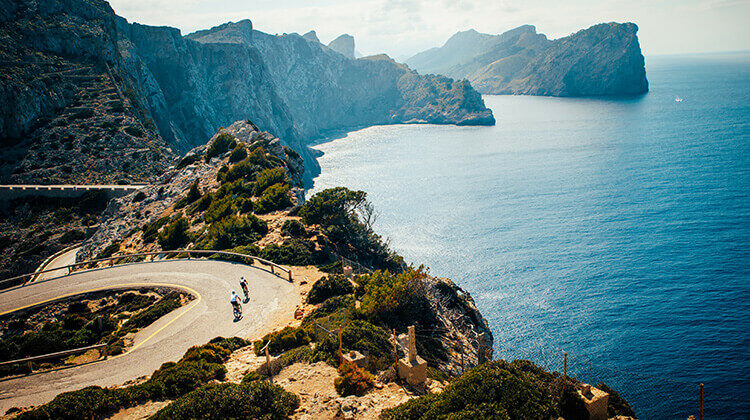 If you are planning to spend a holiday with your bike in Puerto Pollensa, you can't miss the best routes in the area. In this post we share with you some highly recommended cycling paths to enjoy a holiday on two wheels in Mallorca.
Cycling in Mallorca
Mallorca is a paradise for amateur and professional cycling enthusiasts. A good climate, a varied topography and a huge number of cycling routes have become the main reason why every year thousands of cycling lovers decide to pedal on the island.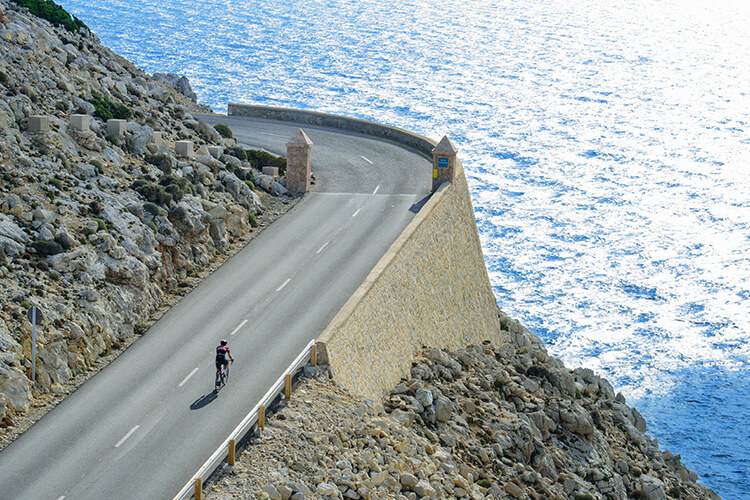 The best conditions come in spring and autumn, when the weather is milder and the roads are drier and emptier of cars.
The island's repertoire is wide and surprising. There are routes to suit all tastes: extreme, with mountains over 1000 metres high, tough climbs, dizzying descents, and quieter routes: kilometres of plains and stunning coastal paths.
Cycling routes from Puerto Pollensa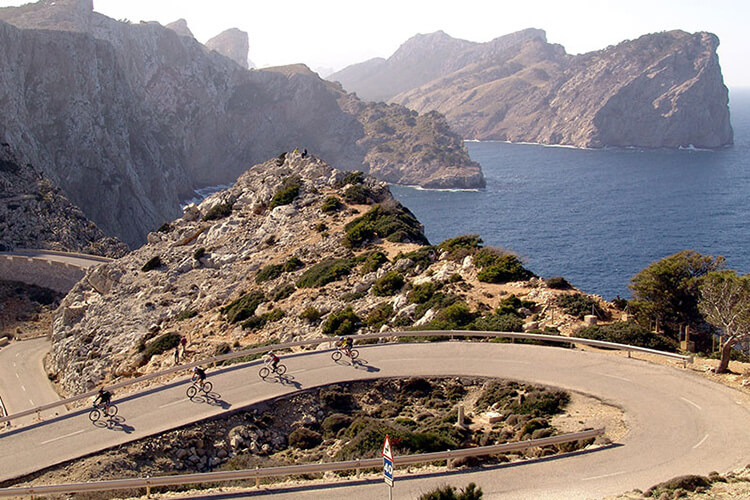 There are many ways to enjoy the cycling routes in Mallorca. Not everyone wants to do a complete loop, some prefer to take it easy and just enjoy the ride. Whichever way you want to enjoy it, remember that you can always cycle one way and return by bus.
So let's get started! Below you will find the TOP cycling routes starting from Puerto Pollensa.
1. From Port de Pollensa to Cap de Formentor
Length (there and back): 32 Km, elevation: 200 m
The circuit from Port de Pollença heading north to the Cape of Formentor, via a spectacular viewpoint – Es Colomer, is one of the most challenging short rides on the island and a complete loop that will surprise you with breathtaking views.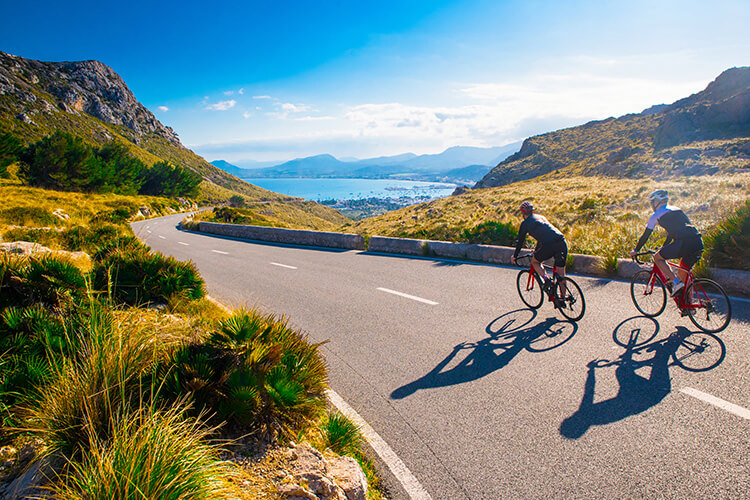 Cap Formentor is the northernmost point of Mallorca and has a magical quality. It is known as the meeting point of the four winds; the Tramuntana blows from the mainland, the icy north winds come down from the European Alps, the west winds from the Atlantic Ocean and the warm south winds from North Africa. So, it is certainly a windy bike ride.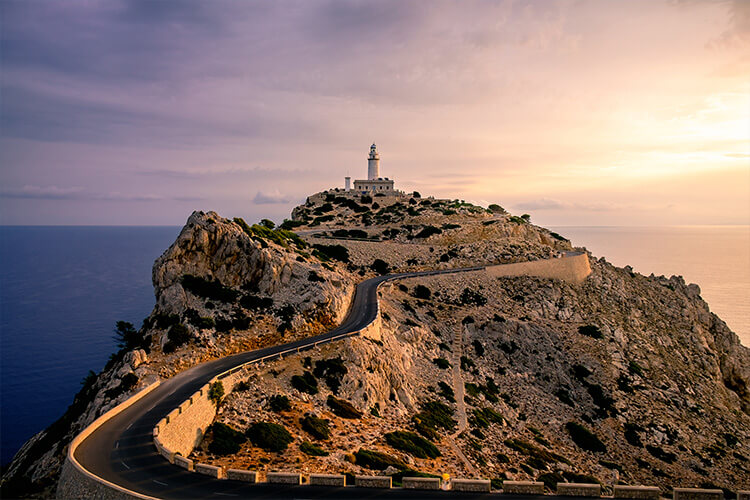 The 13.5 km road from Port de Pollença to Cap de Formentor was built by the engineer Antonio Parietti, who was also responsible for creating another symbolic cycling route on the island: that of Sa Calobra, with its impressive spiral curves and views of the clear blue Mediterranean Sea.
2. From Sa Calobra to Port de Pollensa
Length (one way): 50 Km, elevation: 700 m
Sa Calobra is probably the most famous cycling route and without doubt the most challenging one on the island. The route that everyone talks about.
You can start this route from Sa Calobra, arriving there by bus and cycling back to Port de Pollensa. From the Coll de Reis viewpoint you will be able to appreciate the 26 curves, one on top of the other, sliding gracefully through the valley, which lead to the gem of the Serra de Tramuntana: the beach of Sa Calobra, which, just a few metres away, joins the majestic Torrent de Pareis.
Although this route is quite demanding, as part of it runs between the highest mountains in Mallorca, it will surprise you with its spectacular views. It will take you from Sa Calobra towards Escorca and Lluc, where there is a beautiful monastery, to the old town of Pollensa and from there, to finish the route in Port de Pollensa.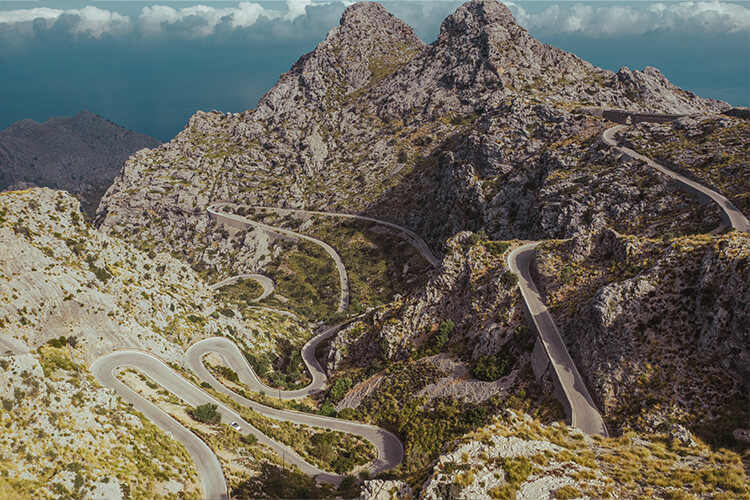 An important warning: watch out for cars, buses and other cyclists, especially on the descent!
3. From Port de Pollensa to Lluc Monastery
Length (there and back): 52 Km, elevation: 600 m
A beautiful course and not too complicated, that will take you from Puerto Pollensa to the heart of the Serra Tramuntana – Monastery of Lluc and back to Puerto Pollensa.
This route is partly shared with the road to Sa Calobra. It runs along the Ma-10, towards Pollensa and then, from the halfway point onwards, there are slight climbs up to the Coll de Femenia. From this point onwards, following the last straight road, you will arrive directly at Lluc. You will be surprised by the incredible atmosphere of this place.
4. Desde Port de Pollensa a La Victoria
Length (there and back): 25 Km, elevation: 200 m
This route is a perfect option for a day of recuperation. A short, easy ride, with a few slightly daring climbs, but also with some restaurants along the way where they serve delicious meals and all this in an idyllic setting, with spectacular views towards the bay.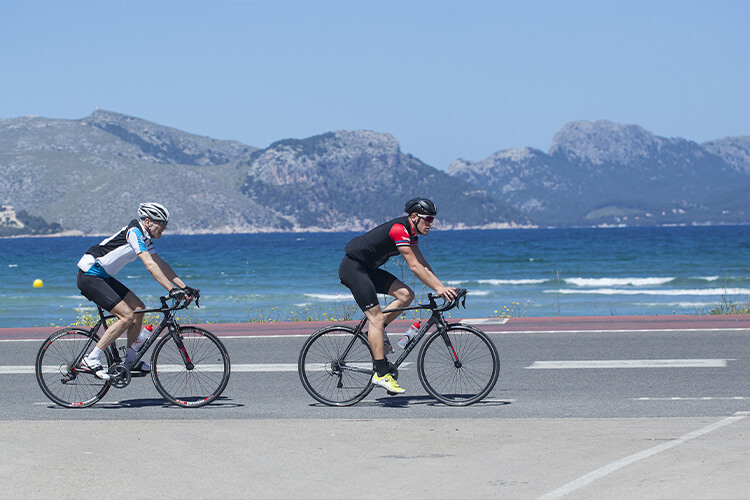 From Puerto Pollensa towards Alcúdia, at the height of the s'Albufereta Nature Reserve, the route follows the sea road, with a cycle lane. At kilometre eight there are slight climbs until the climb up to La Victoria, which has a gradient of 13% at some points. However, all this effort is worth it, as the views and tranquillity of the Mallorcan countryside will make you fall in love with it.
5. From Port d'Andratx to Port de Pollensa
Length (one way): 128 km, elevation: 1000

The Serra de Tramuntana is undoubtedly one of the main reasons why cyclists choose Mallorca: mountainous terrain, steep cliffs jutting out from the sea, pine forests, holm oaks and charming villages with small squares perfect for a snack stop, plus the wonderful, well signposted and maintained MA-10 road that crosses the Tramuntana from southwest to northeast or vice versa and provides the best cycling journey on the island.
This route is for the ambitious and daring, as it is quite long and demanding, with several very steep climbs. But it is definitely worth it, as it passes through the most symbolic places on the island.
You can start this route by arriving at Port d'Andratx by some kind of transport early in the morning. From there take the direction to Andratx and then to the Coll de Sa Gramola. From this point on, the route will be full of viewpoints, charming places, tranquillity and the nature of the island intertwined with the beautiful mountain villages of Mallorca.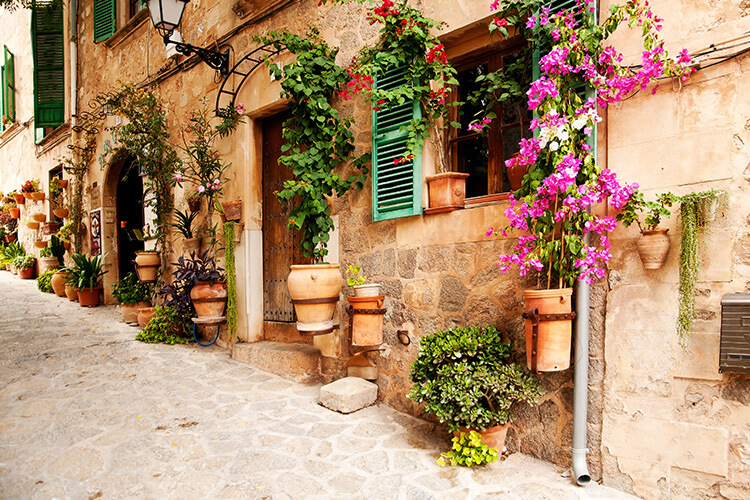 You will be captivated by Estellencs, the first village you will reach, and then you will discover the beauty of Banyalbufar. But not to be outdone, when you reach Valldemossa you will understand why it is considered one of the most beautiful villages in Spain – and this is not the end of this route through the mountain villages of Mallorca. Deiá is the next place that will try to seduce you with its charm. And when you think that you will not find a better place that fascinates you as much, Sóller and Fornalutx will come along to show you that there is still much to discover.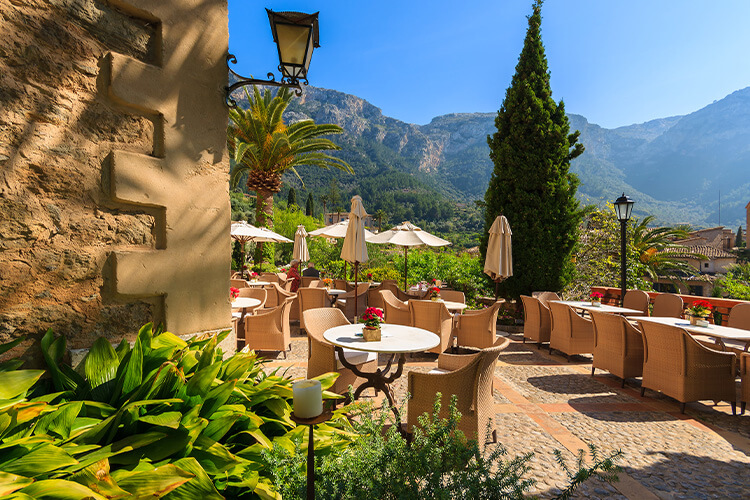 Afterwards, this path will take you to more incredible places: two reservoirs: Cúber and Gorg Blau – hidden among the highest mountains of the Serra de Tramuntana, which create a landscape so different to what visitors to Mallorca are used to seeing.
From there, following the Ma-10 road, you will reach Escorca and, from there, Lluc – which you will probably already know if you decided to do one of the routes mentioned above. From here, only 26 km separate you from Puerto Pollensa.
And if you decide to do any of these routes we propose, don't forget to share your impressions in the comments.