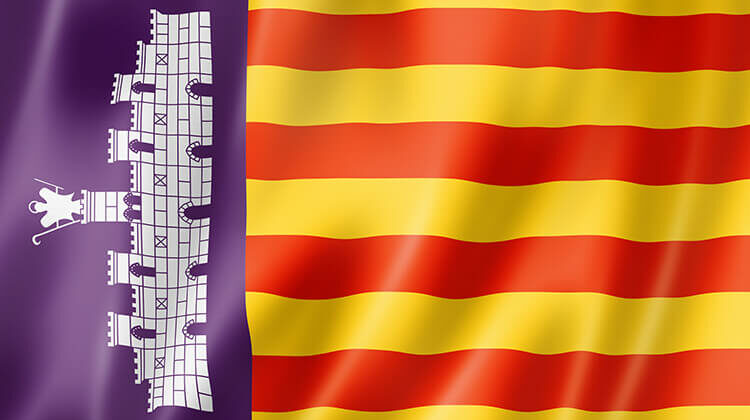 Practically the entire population of Mallorca speaks Spanish, but during your holiday you may hear the locals speaking the local language: Mallorquín, a dialectal variation of Catalan.
Mallorquín – the Mallorcan language
Mallorcan lies somewhere between French and Spanish but sounds considerably different to both. If you're wondering if Mallorcan and Catalan are the same, well they are very similar, but Mallorcan is more the local Catalan dialect of Mallorca.
Also, it's the language you will hear regularly on the streets of Mallorca and learning to say a couple of expressions in Mallorquín is a milestone for any tourist or foreigner living on the island and for sure will be very appreciated by the locals.
Mallorcans are very proud of their language and would be delighted if one of the millions of visitors to the island addressed them in their mother tongue, even with a simple "good morning".
13 useful expressions in Mallorcan
If you're planning a holiday in Mallorca, these phrases for sure will help you get to the hearts of the residents. Obviously, no one expects a foreign visitor to converse in fluent Mallorcan but learning a couple of phrases will be well worth the effort. You'll be surprised at the reaction and warmth your efforts will bring.
1. Bon dia · bones tardes · bona nit
Bon dia: good morning
Bones tardes: good afternoon
Bona nit: good night
With a simple 'bon dia' you not only give a touch of courtesy to your Mallorcan interlocutor, but you will appreciate the magic that this simple expression generates. Try it and you'll find that your coffee arrives faster, your croissant warmer and your day in general takes on a happier glow.
2. Moltes gràcies
Moltes gràcies: Thank you very much
It is very similar to Spanish – 'muchas gracias', but in its original Majorcan version it will win hearts. Try to pronounce it loud when you say it: moultes grahsis.
3. Perdó!
A word as indispensable in the basic Mallorcan vocabulary as 'gracias'. Awkward situations happen without geographical significance, so you'd better be prepared.
4. Uep! Com anam?
Uep! Com anam?: Hello! How are you?
This Mallorcan phrase is widely used by the island's inhabitants and is sure to surprise and captivate, as it is usually unexpected to find foreign tourists using the local slang. Put it to the test and a Mallorcan smile is guaranteed.
5. Un poc
This simple little word very often comes in handy in conversation of all kinds. For example, if you are asked: 'Vosté xerra mallorquí?' (Do you speak Mallorcan?) you can answer 'un poc'.
6. No xerr mallorquí
No xerr mallorquí: I don't speak Mallorcan
As residents are not used to foreigners speaking to them in their own language, it could happen that by using one of these phrases they will start speaking to you in their language. For this occasion, it is better to be prepared and to warn that you do not speak Mallorcan, pronouncing it strongly 'no xerr mallorqui' or you speak it a little – 'xerr mallorquí un poc.'
7. Quant és?
Quant és?: How much is it?
During your stay in Mallorca, you'll probably be visiting shops or markets, which makes a perfect occasion to put your Mallorcan to the test. Imagine how you could stand out from the crowds of tourists visiting the island, and who knows, you might even get a very special deal, with some special discount just for you.
8. On és…?
When we travel, we often look for or ask about the places we want to visit. This also creates a perfect opportunity for conversation and to put into practice what we have learnt. You can simply ask for a specific place, such as 'On és Alcudia?', or for any other place using even the most commonly understood English words, for example: 'On és restaurant/ pharmacy/ shop/ toilet?'
And the answer? Don't worry, there is always a language that is understood all over our planet: gestures. And who knows, maybe with this little effort you will get directions to somewhere different that you can't find in the guidebooks.
9. Me pots posar un… ?
Me pots posar un ?: May I have a… ?
This expression can be followed by absolutely anything you want to order: a coffee with milk, tea, a glass of red wine…. You'll find a hint on the menu, which often shows the names of dishes or drinks in the local language. The waiter will be bowled over .. unless the restaurant and the staff are not Mallorcan.
10. Betuadeu
Well, we all know that the most interesting things in any language are those expressions that accumulate a whole avalanche of emotions in a single word. One of them is the word 'betuadeu', which we can translate as 'for God's sake'. So, if you want to complain and add this expression, you will surely get more attention to your needs.
11. Què putes…
Què putes : What the hell
Sometimes the temperature of emotions rises, so the right expression should be used.
'Què putes' is quite rude, literally meaning 'what a whore', although the more appropriate translation would be 'what the hell', and is used freely in almost any setting or situation to communicate shock, indignation or simply surprise. It works well at the beginning of any sentence.
'Què putes fas? '- we could translate – 'what the hell are you doing?' – but you'd better try it with the Mallorcans you know well!
12 . Adéu
A very common way of saying goodbye. In fact, it is very difficult not to hear it when you are in Mallorca.
13. Mos deim coses
Mos deim coses: See you soon
A useful expression for saying goodbye in Mallorcan is 'Mos deim coses', which literally means 'we say things to each other' but is used with the meaning 'see you soon' or 'we're in touch'. And it's OK if the likelihood of meeting is almost zero – you can always use it.
Dictionary of useful expressions in Mallorca
Just below we have created a small dictionary in which you will find basic Mallorcan phrases that can be useful for simple conversations. You can also download a pdf if you want to keep it handy.
And if you already know other expressions of the residents of the largest Balearic island, don't forget to share them in the comments.
Mini dictionary of Mallorquin
Greetings:
Hola! – Hello!
Bon dia! – Good morning
Bona tarda! – Good afternoon
Bona nit! – Good night
Uep! Com anam? – Hello, how are you?


Adéu! – Good Bye
Mos deim coses – See you soon!
Que tinguis un bon dia! – Have a nice day!
Basic vocabulary:
Sí – Yes
No – No
D'acord – Agreed
Bé – Good
Malament – Bad


Moltes gràcies – Thank you very much
Moltes – Very much
Poc – Little
Un poc – A little
De res! – You're welcome


Per favor – Please
Perdó – Sorry
Me sap greu – I am so sorry
Communication:
Xerr un poc de mallorquí. – I speak a little Mallorcan.
No xerr mallorquí. – I don't speak Mallorcan.
No ho entenc. – I don't understand.
Per favor, pot repetir això. – Could you repeat, please.
Other expressions:
Quant és? – How much is it?
On és…? – Where is..?
Me pots posar un… ? – May I have a…?
Betuadeu – For God's sake
Què putes – What the hell