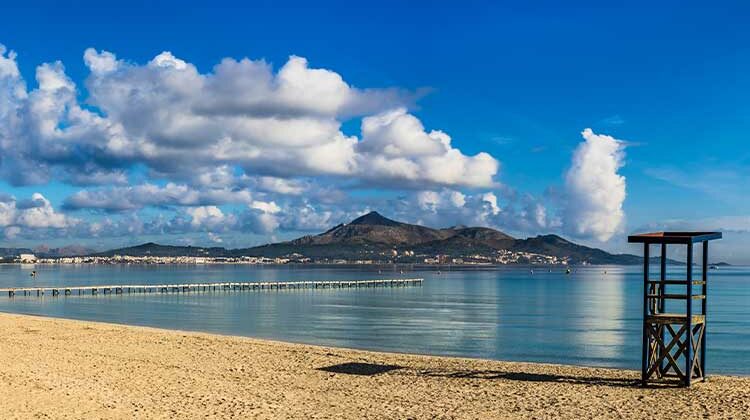 If you have decided to travel to Pollensa, congratulations! You will enjoy a really great destination.
One of the greatest attractions of Pollensa is its incomparable nature: a landscape with typical Mediterranean vegetation and beautiful beaches, whether of fine sand or stone. With crystal clear waters, surrounded by dense pine forests and magnificent views, the beaches of this area of Mallorca are well worth a visit.
In this guide we have listed the best beaches in the area of Pollensa. Some of them are well worth visiting during your holiday on the island.
Discovering the Top 10 Beaches in the Pollença Area
1. Port of Pollença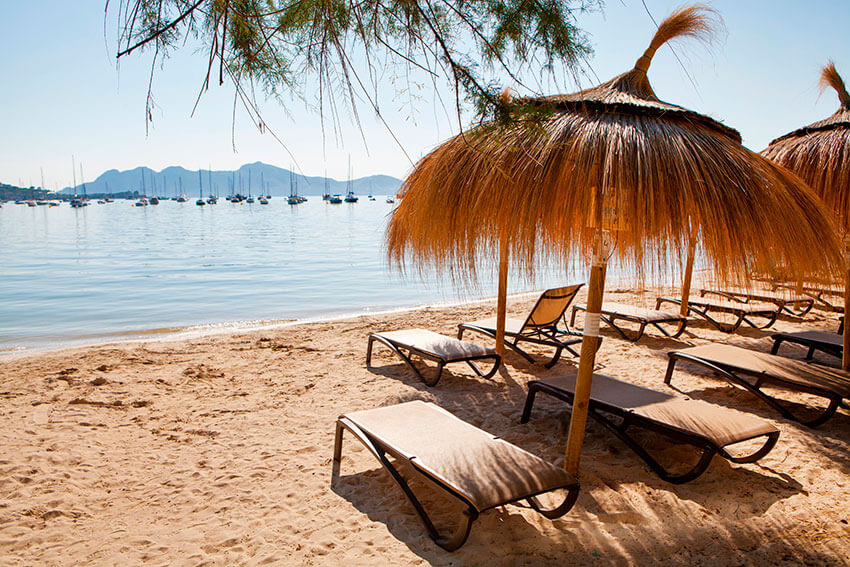 One of the best beach sections is located in Port de Pollensa. Here you can enjoy not only the sandy beach but also the fantastic blue water. You will find it hard to see the difference between the sky and the sea.
The best exclusive restaurants, cafés and shops are also located there. And that's not all: if you want to do sports during your holiday in Mallorca, the area is perfect for all water sports. If you are a golf fan, Pollensa offers a great golf course to improve your handicap.
2. Cala Formentor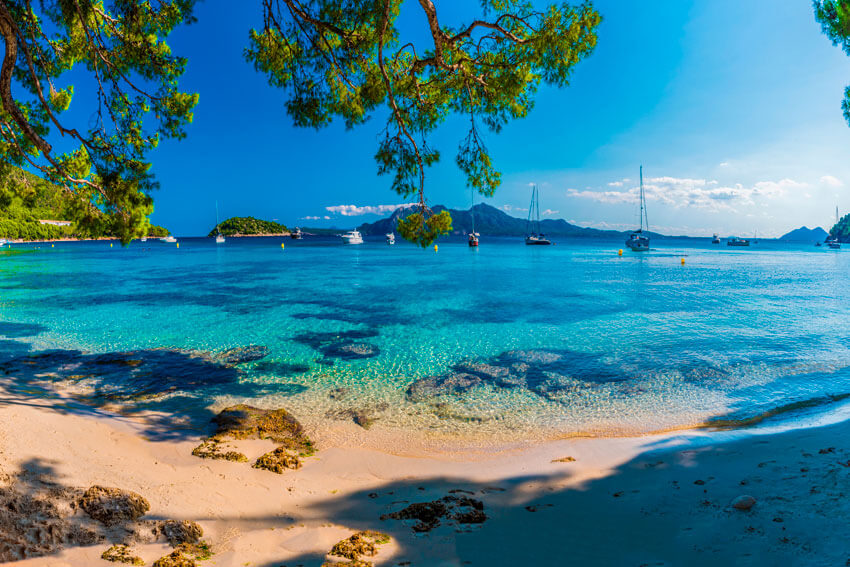 Without doubt, Cala de Formentor is one of the most popular beaches in Mallorca because of its incomparable beauty.
It is semicircular in shape and has a narrow strip of fine sand that outlines the clear water. Directly opposite the beach is the small island of Formentor; a sight you will probably never forget. In addition to the fantastic beach, in this area there is the Formentor lighthouse (Cap de Formentor), which can be seen from the Es Colomer lookout, which is located next to the beach.
The view from this place is fantastic and we can absolutely recommend it. You will not regret it.
3. Cala San Vicente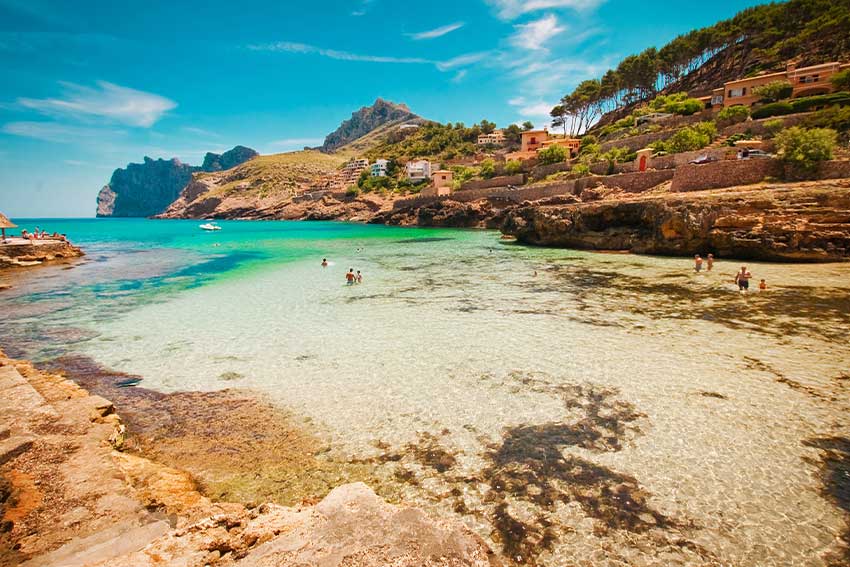 Cala Sant Vicenç consists of four beautiful beaches and coves: Cala Barques, Cala Clara, Cala Molins and Cala Carbó.

This beach is located next to the Serra de Tramuntana and is a popular area for cycling enthusiasts. It is also a great place for hiking and to enjoy the overwhelming beauty of the local nature.

A visit guarantees you will enjoy crystal clear waters and a breathtaking environment.
4. Bahía de Alcudia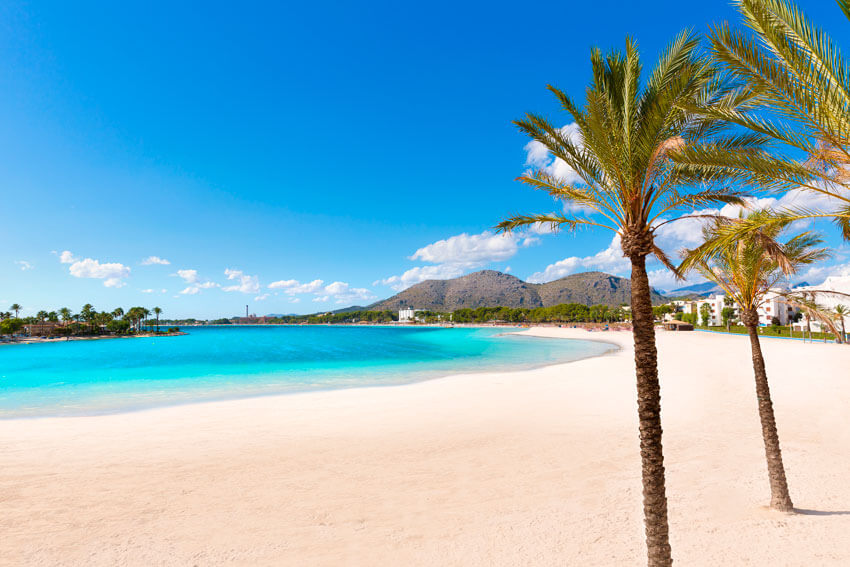 Alcudia is a beautiful city near Pollensa. In addition to the beaches, the wide range of water sports activities and the beach bars, Alcudia itself is an attraction. The old part of the city is walled. It is a real pleasure to get lost in the streets and discover charming corners.
5. Cala de Sa Calobra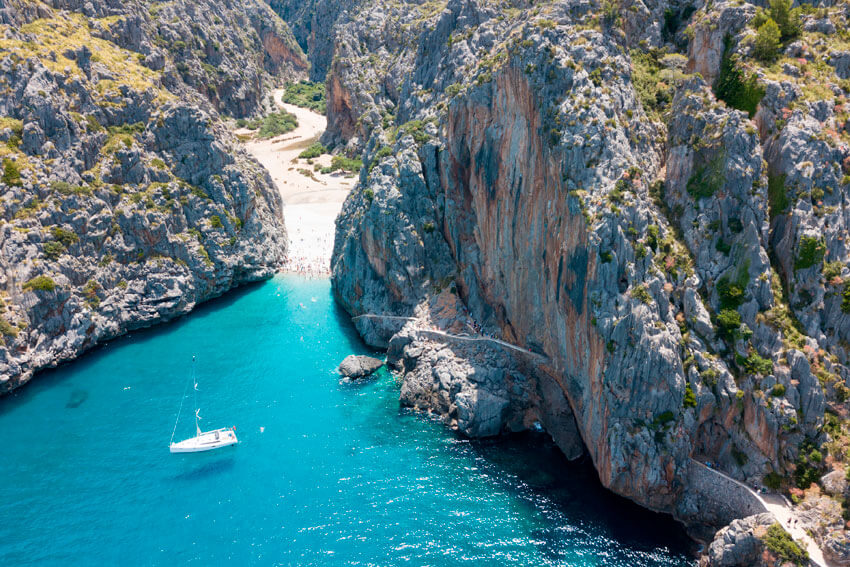 Sa Calobra – just the view of the mouth of the Torrent de Pareis with the beach flanked by two huge cliffs compensates every effort to get there: a secure postcard view.
6. Cala Figuera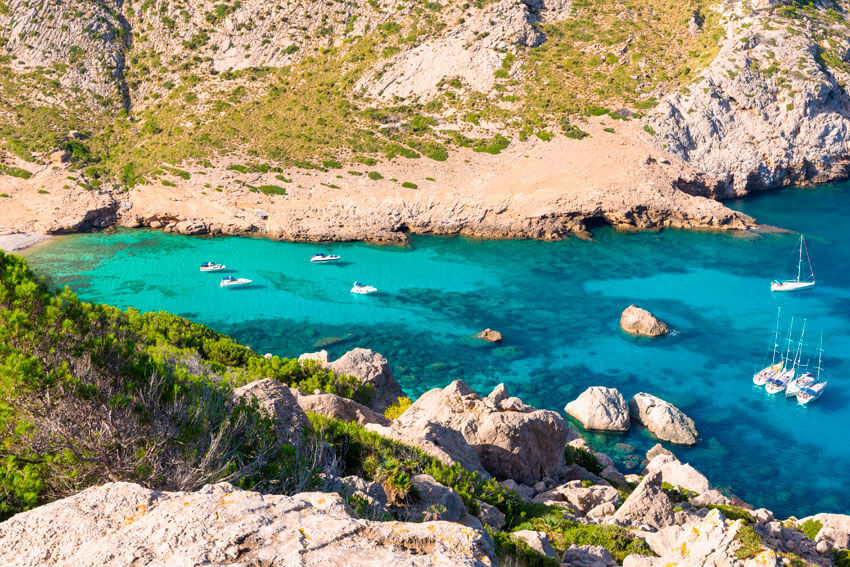 Cala Figuera is a beautiful, unspoilt beach, surrounded by mountains with white sand and crystal clear water. What distinguishes this cove is the beautiful views that surround it, as well as peace and quiet. It is a very popular place for naturists.
7. Cala Murta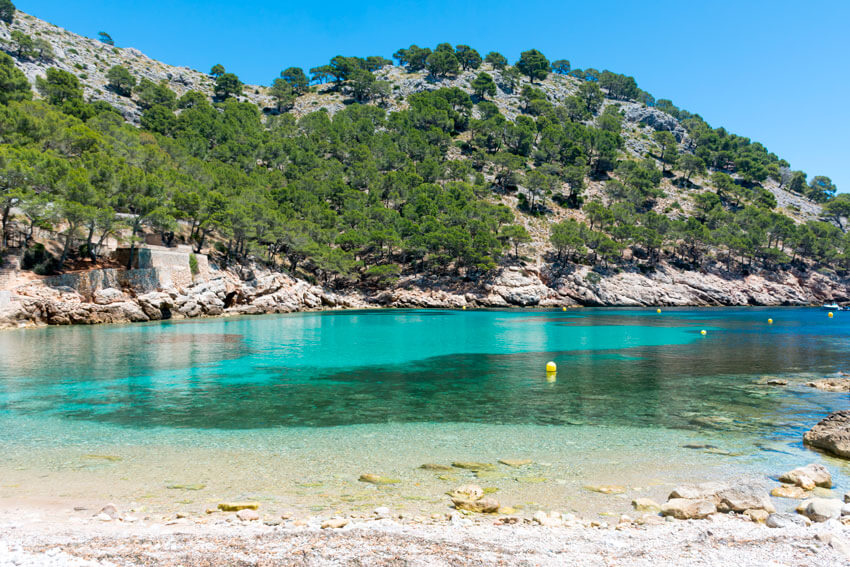 Cala Murta is a cove framed by a cliff covered by pine woods. This beach of sand and gravel has facilities that make it ideal for family holidays: barbecues, camping sites, benches and picnic tables. Thanks to its closed and elongated shape, it is also ideal for anchoring yachts.
8. Cala Boquer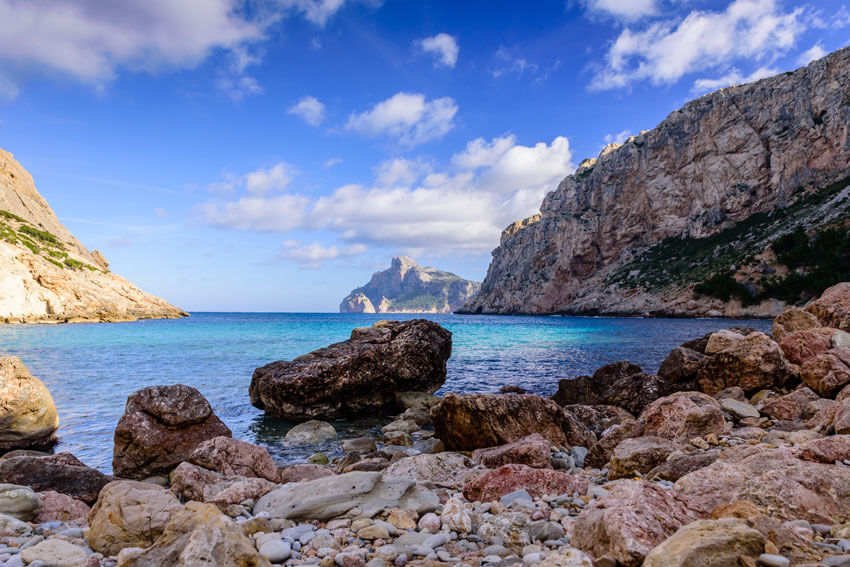 Cala Boquer is an unspoilt and not crowded beach, which is also an excellent refuge for sailors, both because of its location and because of its closed shape, which protects boats from the wind and strong currents.
9. Llenaire Beach
Llenaire is an easily accessible beach located between Puerto Pollensa and Alcudia. It is a beach of white sand surrounded by pine trees, which on hot days enriches the air with a pleasant pine scent.
10. Cala Es Caló
Cala Es Caló beach is a small, natural pebble beach, 55 metres long and 20 metres wide. Its seabed is rocky with lots of vegetation, which makes it a perfect place for diving enthusiasts.
Pollença's beaches are an abundant source of natural beauty, providing a serene escape from the hectic pace of everyday life. Whether you yearn for pure relaxation, thrilling water sports, or a tranquil haven to reconnect with nature, the beaches surrounding Pollença are guaranteed to surpass your expectations. So, don't forget to pack your beach essentials and embark on an unforgettable journey to Pollença, where captivating coastal wonders await you.
Do you already know which beach you will visit first?