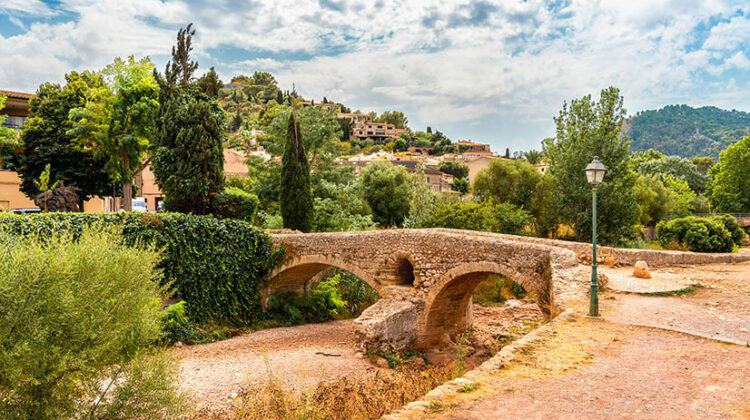 Located in the charming town of Pollensa, Mallorca, the Roman Bridge is a hidden gem that is often overlooked by visitors. That's why we highly recommend visiting this stone bridge located on the edge of town. It is a must-see attraction, especially for history enthusiasts.
Is this Roman bridge really Roman?
The origin of this bridge is still by today a mystery. This Roman bridge was renamed thus from the nineteenth century, formerly it was known as Cubelles Bridge. Moreover, for further complication, there is no record of its existence before the 14th century.
Its structure, formed by two arches of different size, does not offer conclusive clues about its origin, since it underwent a deep remodelling during the Middle Ages because of the strong floods of the torrent.
Roman bridge origin
There are two main theories explaining the origin of this bridge.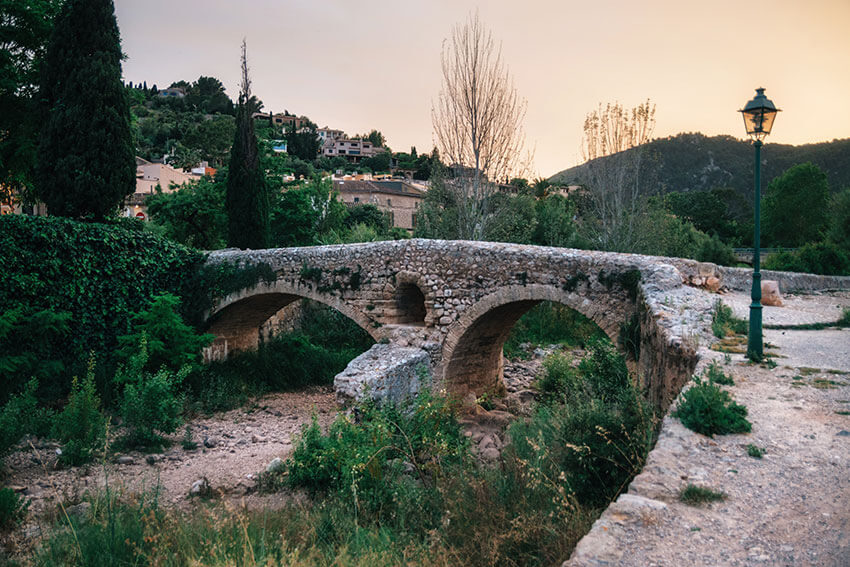 The first is that it really is a bridge built by the Romans. So, we would be facing one of the few remaining vestiges of his presence on the island. The landing of the Romans in Majorca would pursue the goal of keeping piracy in line and for this they raised two urban nuclei: Palmeria and Pollentia – the first in the current Palma de Mallorca and the second in the current Alcudia.
But, since Pollensa did not occupy its current location until the 13th century, it is difficult to explain a location of the bridge so far from the urban nucleus. This is the main reason for the existence of a second theory that dates the bridge in the Middle Ages, during the time when the town was dominated by the Knights Templar.
Despite its age, the Roman Bridge in Pollensa is still in excellent condition. The bridge has been well-maintained over the centuries and has undergone several renovations.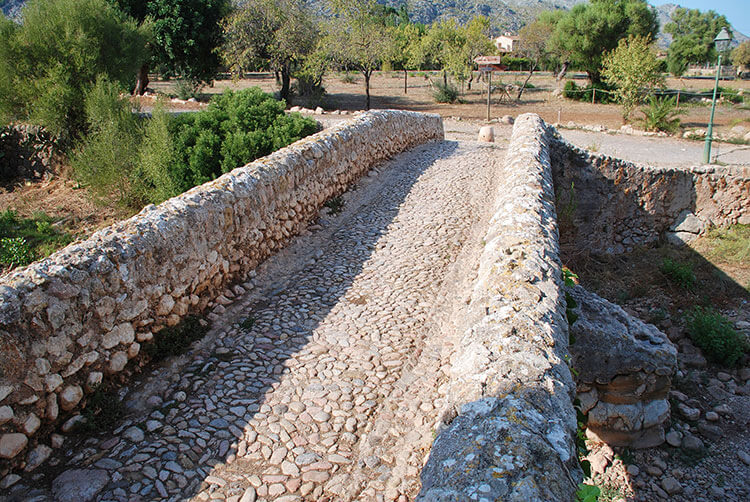 Whether it is truly of Roman origin or not, it is still worth visiting and enjoying a peaceful walk across the bridge, taking in the stunning views and capturing a photo in this unique place.
How to get to the Roman Bridge
The bridge is located in the torrent of Sant Jordi, about 700 meters from the center of Pollensa, so you can perfectly arrive giving a relaxed walk. By the way, you can take advantage to visit the Calvari Steps, which is in the same direction. For those who prefer it, you can also easily reach by car.
What about a little bit of history between beach and rest?